Hello friends! I hope you had a wonderful week. This is my weekly recap of training/life in London. My next marathon is in 13 weeks, which will be the Vienna Marathon.
Monday: Rest from running! With over 50 miles of running the week before, I needed a rest day anyways, and I woke up to pouring rain and appreciated the option to snooze instead. After work, I completed day 26, leg day, on Iron Strength, (i.e. Caroline Girvan's free strength training program on YouTube) + core on Peloton.
Tuesday: Run commute, 4.2 miles, then another 3.65 miles with my colleague Nicole. No rain! It was actually in the upper 20's F or -2C, so the air was dry and crisp!
After work, we had a bowling outing right in central London near our office, at the Ham Yard Hotel. I never would have guessed there would be bowling in central London!
Wednesday: 8 mile run with some tempo intervals in there. Brisk! I think it was about 27F (nothing compared to Minnesota weather, ha!) and there was some ice on the ground from frozen rain puddles, but it was easy to spot and avoid, even in the dark morning hours.
Day 27 of Iron Strength after work, upper body + core on Peloton.
Thursday: Another run commute!
This time my colleague Tina joined me; she lives about 1 mile away, so we met in the middle for a 4.6 mile run into the office. We ran through Regent's park and were treated to a beautiful sunrise and a surprise camel sighting!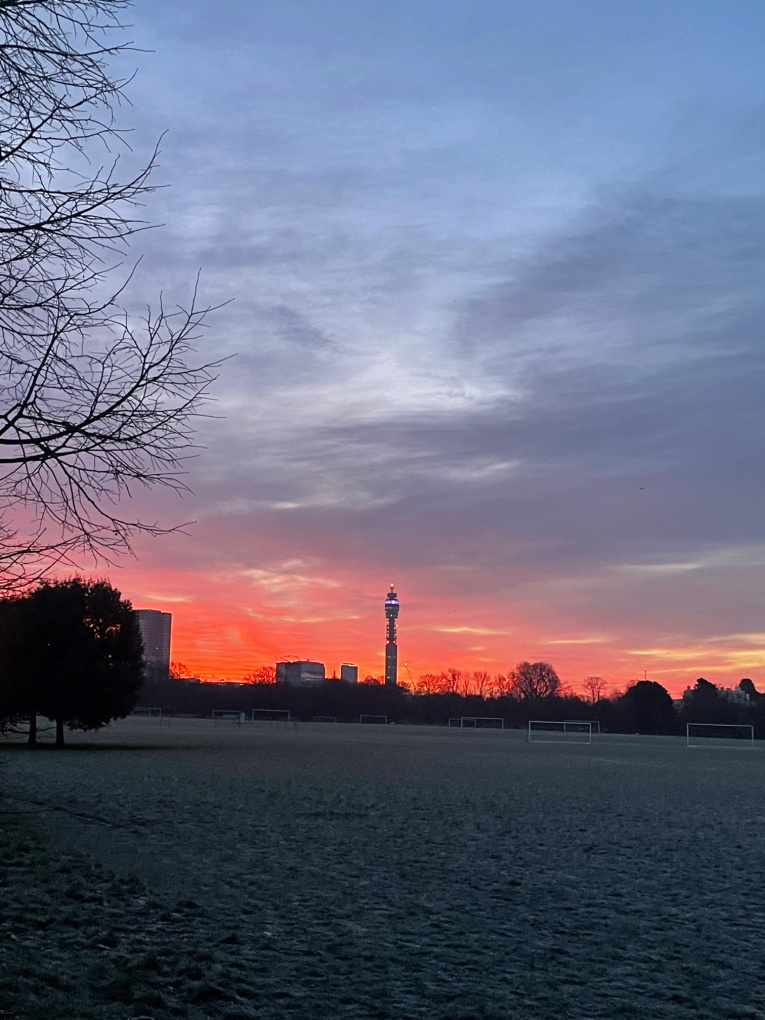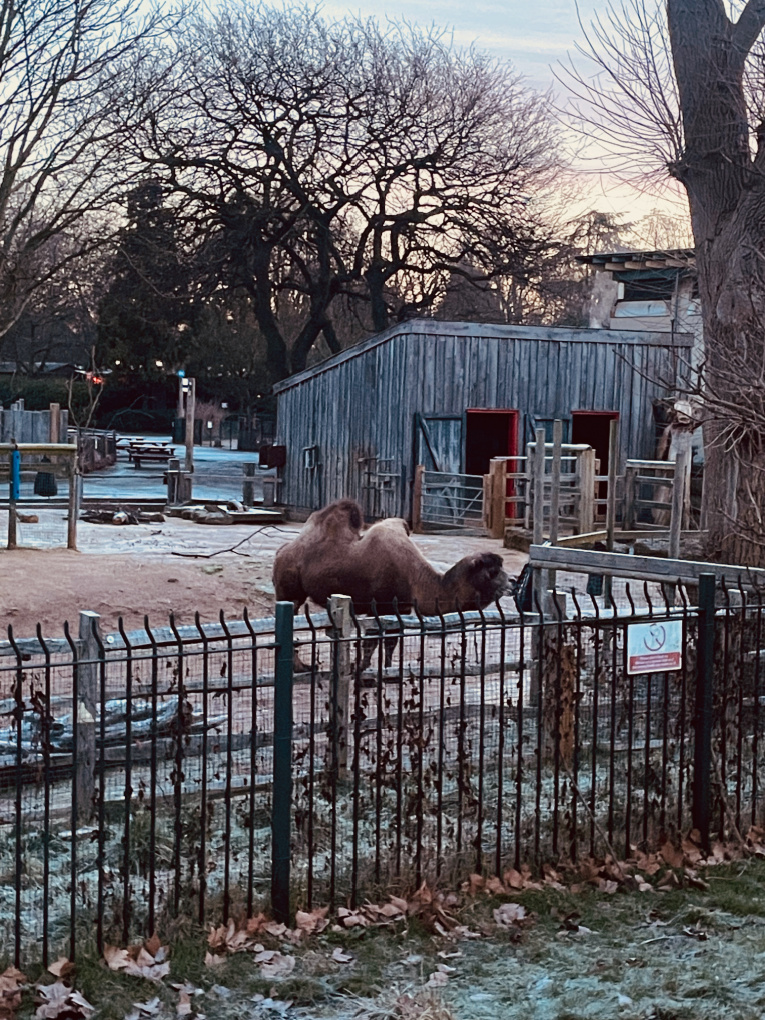 It ended up being a long day at work and I didn't get home until after 9 pm. I even skipped my daily 10 minutes of core as I was pooped…but that's okay, one missed day doesn't mean I should give up on that goal. Nobody's perfect.
Friday: Ruth and I ran 7 miles together after the sun came up, which was great. It was about 40F/4C, but she was shivering; I should have put a jacket on her. This Minnesota dog is getting wimpier here in London, hehe!
Saturday: I put myself out there and tried out a local running club, the Serpentine Running Club. This is one of the few in London that has their long runs on Saturdays (most are on Sundays!) The club met at Hyde Park, which is about 4 miles from our flat. The leader told me to be at the meeting place at 9:30, so Dustin ran with me to Hyde and no one was at the meeting spot. I rechecked my phone to ensure I was at the right place and jogged around a bit to stay warm; eventually some people showed up at 9:45 and then they gave others another 15 minutes to arrive. Then, at 10 am, we did 10-15 minutes of warm-up drills together. Europeans sure do love their warm-ups! I have never seen this at a US running club; in the US, you show up on time ready to run and then you go. (And you start much earlier!) Instead, I had nearly an hour from when I arrived to the spot (and I did 5 miles and was plenty warmed up) to when we actually started running again, which was a little tough on the body…
Anyways, once we finally started running, everyone was nice and friendly. This is one of the biggest run groups in London. They have organized runs most evenings: Mon/Tues are at the Paddington track, Wednesday is another run at Hyde Park, Thursdays are hill repeats on Primrose, and Saturdays are the long run. I was glad I tried it out and I will go back, but now I know better than to be there at 9:30. I am not sure if they move up the start time in the warmer months, but I suppose I could always run more miles ahead of time, run with them, and then join for their coffee hour afterwards and take the tube home. I skipped the social hour this time after the run since I still had to run home.
Between the run there, about 7 miles with the club and back home, I ended up with 17 miles total. I was really struggling on the 4-5 miles home, I needed to fuel more and my stomach wasn't feeling great. But I got it done. I was happy that by the time I arrived back at our flat, Dustin had showered and taken the pups to the Heath to wear them out so I could recover a bit.
Early that evening (or late afternoon?), we joined my old college roommate at her Craft Beer Club.
I've mentioned this friend here before, she's been living here for about 5 years and recently obtained her indefinite leave to remain here; "Indefinite Leave to Remain (ILR) is also commonly referred to as 'Permanent Residence'. If you are a foreign national and you are granted Indefinite Leave to Remain, you will have permission to live and work in the UK without restriction." – Essentially she has passed all the tests and interviews to no longer need to have a company sponsor her work visa (like we have to) to stay here. It was reason to celebrate so I was happy we had this opportunity to connect.
We joined the group for a pint at two different pubs before dropping out and heading back home. It was a very friendly group of people and I hope to attend one of their events again.
Sunday: Snoozed a bit before heading out for a 7 mile run with Dustin. Then off to the Heath for lots of walkies with the pups in the sun!! (A lot less rain this week.)
Summary: 51 miles of running, 3 Iron Strength sessions, attempt at daily core on Peloton
This upcoming week will be a planned cutback week as we are flying to Val-d'Isère in the French Alps on Tuesday to snowboard through Sunday. It's my first time in the Alps- I'm a little nervous! Apparently one of the longest runs is at Val-d'Isère; it's over 10km long. The resort is enormous (and looks beautiful!)
I'm not sure if I will run much while there, which is just fine for 5-6 days, since I'll be snowboarding every day. As long as I don't break any bones snowboarding, I can get right back into training when we return.
The best news? Our snowboards, which have been missing since 12/23 (when they never left Heathrow on our way to Finland) were delivered to our flat yesterday. Just in time! Will they make it with us to Val-d'Isère? Ha, who knows?
Well, that's a wrap! I'm linking up with Running on the Fly and Confessions of a Mother Runner; check out their blogs to connect with other fitness bloggers for workout ideas and inspiration!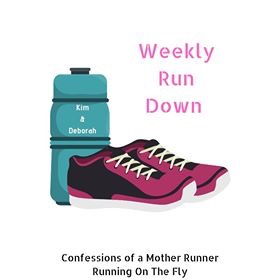 (Visited 167 time, 1 visit today)


Credit : Source Post